Customers worldover are talking about your product.

Get instant access to online mentions, grow customer satisfaction and sales.
DISCOVER AND REACH OUT TO INFLUENCERS
Identify the most active and influential users who talk about you online. Interact with influencers and engage them in cooperation with your brand. Turn them into loyal brand ambassadors.
MONITOR BRAND REPUTATION
Track both positive and negative opinions about your brand in real time. Find out what people think and write about you online. React to comments immediately to prevent harming your brand reputation.
ENGAGE YOUR COMMUNITY
Pick up social media discussions about your brand and industry. Join online conversations to increase the engagement of your fans.
WATCH YOUR COMPETITION
Track Internet mentions about your competitors. Follow their moves and leverage this information in your business.
GET SOCIAL INSIGHTS
Gather comprehensive information about your audience in one friendly dashboard. Discover who are the people that talk about you online. Analyze Internet buzz about your brand and measure social media reach.
80% of consumers do research or ask online before making a purchase decision. Identify these users, reach out to them, and turn them into your clients before your competition does.
Brand24 which is an effective and user-friendly public relations solution. Several companies & brands aswellas agencies of all sizes use Brand24 to track and analyze online conversations about their clients, brands, products, and competitors. Brand24 empowers its users to monitor their online reputation, prevent PR crisis, track the results of their campaigns, find brand ambassadors, discover cooperation opportunities to get more coverage and create brandable PDF reports in a matter of seconds!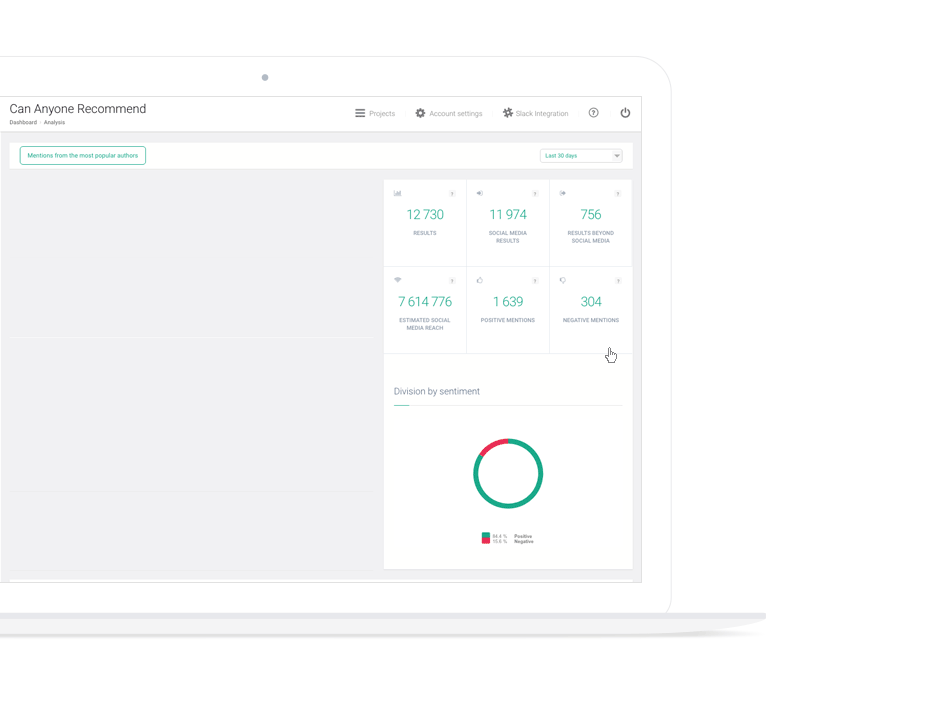 React and engage quickly to real-time comments made about your brand. Follow-up on positive comments from your brand ambassadors, or respond to a dissatisfied customer before the story gets ahead of you.
Get instant group results related to specific topics, keywords and word-clouds.80% of consumers do research or ask online before making a buying decision. Brand24 gives you the listening tools to find these leads, identify where to promote products and find customers before they find you.
Search the social web for key topics, trends, or discussions.Monitor and compare social mentions against your competitors.
Thousands of companies use Brand24 to monitor the web.
Whether you're a one-person business, startup or Fortune 500 company,Brand24 helps you discover your digital footprint worldwide.
Brand24 is a great social monitoring capabilities tool. If someone mentions any brand keyword, across any social media, Brand Custodians can get to them right away and respond. Not just keeping a close watch on your brands and products, it also helps in exploring business possibilities, insights and improve conversion rates. With a great customer service which is extremely responsive and helpful. Brand24 is very user-friendly, easy to navigate and intuitive, brand custodians don't need a lot of technical knowledge to be a expert at using it! They can compose immense and crisp reports about our brands using this application.
Get a deeper understanding by Insight generation and sentiment analysis can be much better. It would also be good for the team to consider providing support with developing negative incidence sentiment audits & analysis reports across social media strategic measurements & reporting framework for the brand mentions.